Live Captioning in New York
Communication is of paramount importance both in one-time events and in your daily life. All County Captions is dedicated to providing accurate CART services (communication access real-time translation) to make communication accessible to everyone. Whether you're preparing for a live event or a doctor's appointment, All County Captions is here to help. Call our New York office to learn more.
Large Events and Meetings
A large variety of people will attend your event, and every one of them deserves to understand the speakers and presenters. To make that possible, we offer both on-site and remote captioning. With our help, the deaf, hard of hearing, and those learning a new language will have access to your event. We'll help you communicate your message to all those in attendance.
One-on-One Appointments
If you are deaf or hard of hearing, you may struggle to communicate with doctors, teachers, and other individuals. Our remote captioning is accessible anywhere there is an internet connection and a microphone, so you can bring us with you wherever you go. If you need help communicating when you can't access an interpreter, contact our expert team.
Fast and Accurate Captions
We have been in this business for a long time, and we have honed our process to be as fast and accurate as possible. Our stenographers go through extensive training and we use top-notch equipment, so there is almost no delay between your words and our text translation. We'll facilitate easy communication so that you can live with confidence.
To schedule our live captioning services, call us at 516-380-9233.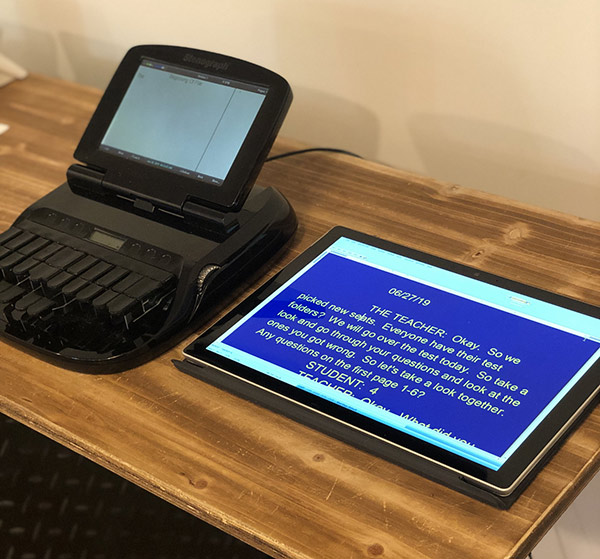 01
We will help you set new business priorities, outline plans for growth, determine a product roadmap or plan your investment decisions.
02
Competence, Reliability, Honesty, Integrity – these definitions characterize our employees in the best way.
03
Success of any organization depends on customers. That is why the first rule of our business is to retain clients and build a loyal relationship with them.